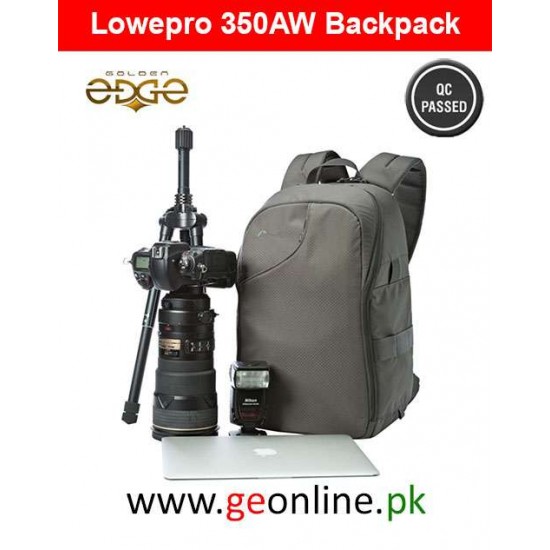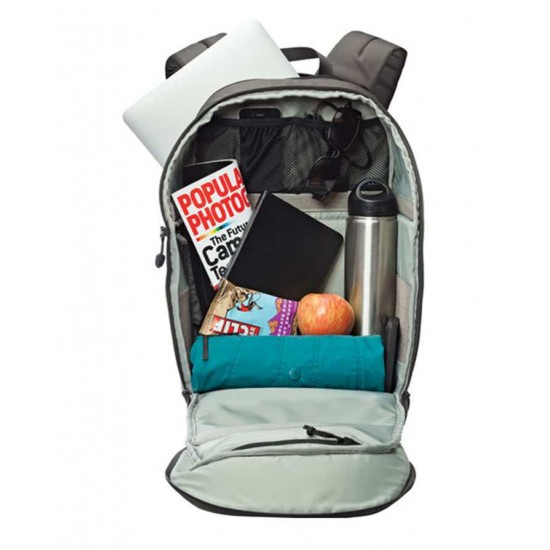 Out Of Stock

Backpack Lowepro 350 AW For DSLR Lenses and Laptop
Hold DSLR, 2 Lenses, Flash & Accessories
Fits DSLR with 300mm f/2.8 Lens Attached
Zippered Compartment for 15" Laptop
Quick Side-Access to DSLR
Internal Padded Dividers
Internal Mesh & Zippered Pockets
Hidden Passport Pocket on Front Flap
Adjustable Waist & Sternum Straps
Hideaway Tripod Mount, SlipLock Loops
All-Weather Cover Included
Description:
The backpack design of the Lowepro Transit Backpack 350 AW makes this camera bag a very comfortable option to use, as well as a pack that's designed to thwart thieves. There's plenty of padding to keep your camera equipment safe, and Lowepro's designers did a good job with setting up the backpack's compartments, giving you room for all of your camera equipment as well as a laptop.
It's even easy to fit multiple cameras in the Lowepro Transit Backpack 350 AW, along with the laptop. Very few photographers will find that this backpack is too small for the gear they want to take with them.
Considering everything the Lowepro Transit Backpack 350 AW offers, the price is fair versus other camera bag designs.
Perhaps the biggest problem for the Lowepro Backpack 350 AW is that it's too large for most photographers. If you're someone who's just carrying a point-and-shoot camera, you certainly don't need this product. However, when traveling on vacation, it's very handy to have one place to store your laptop and camera, all in a backpack that's just the right size to serve as carry-on luggage for air flight.
This camera backpack features a high quality construction that should fit the needs of most DSLR photographers who are traveling. Not everyone is a fan of a camera bag that's in a backpack design, but if you like this design, this Lowepro model should be on your short list.
Pros
Very comfortable to use
Plenty of room for two DSLR cameras, accessories, and a laptop
Strong padding in the right places
Is perfect size to be carry-on luggage for an airplane flight
Specifications
Exterior dimensions: 18.9 x 12 x 9.4 inches
Interior dimensions: 16.5 x 10.6 x 5.9 inches
Weight: 2.4 pounds
Dual shoulder straps in backpack design
Airline carry-on travel rules compatible
Slate gray color
Weather-proof covering available
Adjustable inserts
Size
The Lowepro Transit Backpack 350 AW is a large size versus a standard backpack, but this size is necessary to allow the bag to hold several pieces of camera equipment as well as a 15-inch screen laptop computer.
A standard configuration for the 350 AW Backpack (according to Lowepro) is: A DSLR camera with attached 70-200mm lens, two additional lenses, external flash, an additional accessory or two, compact-size tripod, and 15-inch laptop computer. Lowepro's documentation indicates a lens as large as 300mm should fit in the backpack. However if you have a large tripod, you probably will have difficulty fitting this accessory inside the Lowepro Transit Backpack 350 AW.
This unit is quite a bit larger than most backpacks, which may discourage some people from purchasing the Backpack 350 AW. If you're a shorter person, you may find that the Transit Backpack 350 AW is too tall to be carried comfortably, for example.
It's also a bit heavy -- weighing 2.4 pounds before you begin loading it with equipment -- which might lead some photographers to be leery of taking it on a long hike. Because most of the weight is related to the padding, though, the size and weight is a worthy trade-off for having safe camera equipment. With the adjustable interior compartments, you also can remove some of the interior padding that isn't needed to reduce the weight.
Padding
The entire exterior of the bag is protected by padding of a thickness of about one-quarter to one-half inch. There's also padding used between compartments in the interior of the Lowepro Transit Backpack 350 AW.
The interior padding is adjustable, allowing you to create larger or smaller compartments, depending on the size and type of equipment you're carrying. All of the padding is held in place by Velcro. Not only can you protect the camera equipment by adjusting the location of the padding, but you also can make the compartments smaller to hold the equipment tighter without jostling.
Finally there's quite a bit of padding within the straps of the backpack, which is a necessity considering how heavy this unit can become. You can adjust the straps of the backpack or clip them together to increase the comfort level, too.
I found the bag's padding to be more than adequate for most types of cameras. And the ability to adjust the size of the compartments also allows the 350 AW to work with many types of models.
Overall Design
The Transit Backpack 350 AW from Lowepro is available in one color -- slate gray -- which may seem a bit boring. However, having a generic looking backpack may discourage potential thieves while you're traveling.
At first glance, you probably wouldn't expect this backpack to be holding a large amount of expensive DSLR equipment and a laptop. However, if you're carrying a camera bag that clearly has "Canon" or "Nikon" printed on the side, it doesn't require a lot of guesswork to figure out what's inside the bag.
Lowepro also is offering a waterproof covering that you can slip over the backpack anytime you're in a location where rain or water spray could occur.
One interesting design aspect of the Lowepro Transit Backpack is that you can use the multiple zippers to open "doors" in the backpack. One zipper opens the entire side of the backpack, while another gives you access to a smaller compartment, for example. This is a handy feature if you know exactly how you've packed this unit, giving you quick access to a particular piece of equipment.
Lowepro also included several zippered compartments on the exterior of the bag for sliding in different thin accessories. A small mesh netting compartment inside the bag has a zipper, too, and is great for holding small items that you want to be able to see before you grab them, such as different capacities of memory cards.
Stock:

Out Of Stock

Reward Points:

100

Model:

350 AW
Lowepro
Price in reward points: 5500